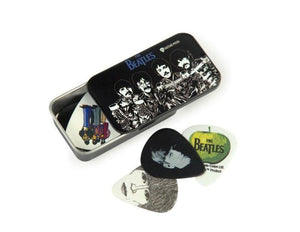 Beatles Sgt. Peppers Pick Tin
From Love Me Do to Revolution, the Beatles were arguably the most creative, diverse and influential band in pop music history. Planet Waves honors the Beatles' legacy with this collection of collectable pick packs.
15 high quality celluloid guitar picks with iconic Beatles images
Highly detailed artwork on every pick
Medium gauge picks
Collect them all
Shipping: Free Shipping!

In the Nashville Metro area? Local pickup available! Email sales@tensolo.com to set up an appointment for pickup. If close enough, we will deliver!

Tax Advisory: Tennessee residents will be charged a sales tax of 9.75% on the purchase. Since we are a TN-based business and only have a nexus presence in TN, we have to charge tax for TN residents only. Other states, unless executed differently by their state government to charge taxes on online purchases, are exempt from paying taxes on Tensolo Music Co. purchases.

Please feel free to email sales@tensolo.com with any questions.
The Beatles Sgt. Peppers Pick Tin is far and away, one of our most popular items. People can't seem to get enough of it.