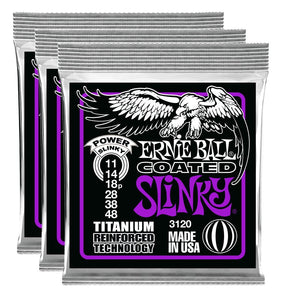 Ernie Ball Power Slinky Titanium RPS Coated Strings 11-48 - 3 Pack
Ernie Ball Slinky Coated Electric Guitar Strings combine the latest technological advancements in string manufacturing. All wound strings are treated with groundbreaking nanotechnology that repels unwanted moisture and oils that negatively impact your tone. In addition to treating the wound strings, each plain string features a patented reinforcement winding of titanium wire. Titanium's inherent strength prevents string breakage, string slippage, and is proven to keep your guitar strings in tune better than conventional plain strings. Ernie Ball Slinky Coated guitar strings maintain the feel and sound of uncoated sets, combining the added protection with the vibrant tone Ernie Ball customers have relied on for over 50 years.
Gauges .011 - .014 - .018p - .028 - .038 - .048
Shipping: Free Shipping!

In the Nashville Metro area? Local pickup available! Email sales@tensolo.com to set up an appointment for pickup. If close enough, we will deliver!

Tax Advisory: Tennessee residents will be charged a sales tax of 9.75% on the purchase. Since we are a TN-based business and only have a nexus presence in TN, we have to charge tax for TN residents only. Other states, unless executed differently by their state government to charge taxes on online purchases, are exempt from paying taxes on Tensolo Music Co. purchases.

Please feel free to email sales@tensolo.com with any questions.

Tensolo Music Co. is an Ernie Ball Authorized Dealer!
The Ernie Ball Power Slinky Titanium RPS Coated Strings (11-48) 3 Pack is evocative, to say the least, but that's why you're drawn to it in the first place.