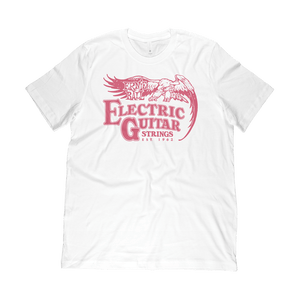 Ernie Ball '62 Electric Guitar T-Shirt
In 1962, Ernie Ball created custom gauge guitar strings that were designed specifically for bigger bends and rock'n'roll chords. Screen printed red ink on white cotton jersey t-shirt. 100% combed ring-spun cotton, 4.2oz fabric.
Shipping: Free Shipping!

In the Nashville Metro area? Local pickup available! Email sales@tensolo.com to set up an appointment for pickup. If close enough, we will deliver!

Tax Advisory: Tennessee residents will be charged a sales tax of 9.75% on the purchase. Since we are a TN-based business and only have a nexus presence in TN, we have to charge tax for TN residents only. Other states, unless executed differently by their state government to charge taxes on online purchases, are exempt from paying taxes on Tensolo Music Co. purchases.

Please feel free to email sales@tensolo.com with any questions.
Tensolo Music Co. is an Ernie Ball Authorized Dealer!
On the fence about this Ernie Ball '62 Electric Guitar T-Shirt? Don't be. Let our satisfaction guarantee address your concerns.