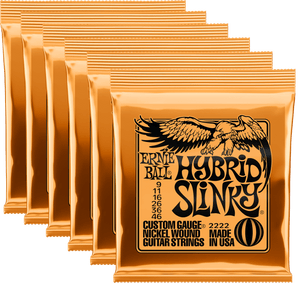 Ernie Ball Hybrid Slinky Nickel Wound Electric Guitar Strings (9-46) 6 Pack
Ernie Ball Nickel Wound Electric Guitar Strings are made from nickel plated steel wire wrapped around tin plated hex shaped steel core wire. The plain strings are made of specially tempered tin plated high carbon steel producing a well balanced tone for your guitar. Gauges .009, .011, .016, .026, .036, .046
Shipping: Free Shipping!

In the Nashville Metro area? Local pickup available! Email sales@tensolo.com to set up an appointment for pickup. If close enough, we will deliver!

Tax Advisory: Tennessee residents will be charged a sales tax of 9.75% on the purchase. Since we are a TN-based business and only have a nexus presence in TN, we have to charge tax for TN residents only. Other states, unless executed differently by their state government to charge taxes on online purchases, are exempt from paying taxes on Tensolo Music Co. purchases.

Please feel free to email sales@tensolo.com with any questions.

Tensolo Music Co. is an Ernie Ball Authorized Dealer!

The Ernie Ball Hybrid Slinky Nickel Wound Electric Guitar Strings (9-46) 6 Pack is the yin, to your yang. You've found what you're looking for.