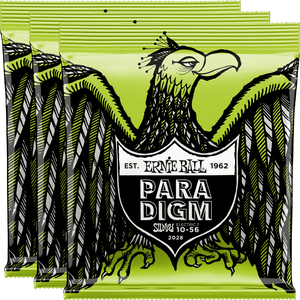 Ernie Ball Paradigm 7-String Regular Slinky Strings 10-56 - 3 Pack
Ernie Ball Slinky Paradigm Electric guitar strings provide unprecedented strength and longer life while retaining 100% Slinky tone and feel. Ernie Ball's industry leading ultra-high strength steel is included in both the wound and plain strings along with a patented reinforcement at the ball end twist of each plain string to provide superior tensile and fatigue strength for strings that lock into tune fast and hold up under the most stressful playing styles and conditions. The coupling of Ernie Ball's Everlast nanotreatment with breakthrough plasma enhanced wrap wire provides added corrosion resistance and reduced accumulation of tone-robbing buildup and debris. Experience the first set of longer lasting strings that are worth playing with all benefits and no compromises. 
Gauges .010, .013, .017, .026, .036, .046, .056
Shipping: Free Shipping!

In the Nashville Metro area? Local pickup available! Email sales@tensolo.com to set up an appointment for pickup. If close enough, we will deliver!

Tax Advisory: Tennessee residents will be charged a sales tax of 9.75% on the purchase. Since we are a TN-based business and only have a nexus presence in TN, we have to charge tax for TN residents only. Other states, unless executed differently by their state government to charge taxes on online purchases, are exempt from paying taxes on Tensolo Music Co. purchases.

Please feel free to email sales@tensolo.com with any questions.

Tensolo Music Co. is an Ernie Ball Authorized Dealer!
Go ahead, make your day...