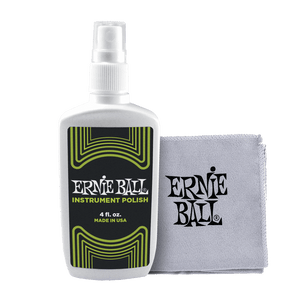 Ernie Ball Polish With Cloth P04222
Ernie Ball's proprietary polish formula is oil free and won't leave a powdery residue on your instrument. Spray on the cloth and wipe off in a circular motion for a streak free shine. Safe on most woods and finishes. Contains silicone. Comes with 12 x 12-inch gray Microfiber polish cloth with stitched edging. Washable.

Shipping: Free Shipping!
In the Nashville Metro area? Local pickup available! Email sales@tensolo.com to set up an appointment for pickup. If close enough, we will deliver!

Tax Advisory: Tennessee residents will be charged a sales tax of 9.75% on the purchase. Since we are a TN-based business and only have a nexus presence in TN, we have to charge tax for TN residents only. Other states, unless executed differently by their state government to charge taxes on online purchases, are exempt from paying taxes on Tensolo Music Co. purchases.

Please feel free to email sales@tensolo.com with any questions.

Tensolo Music Co. is an Ernie Ball Authorized Dealer!

Go ahead, the Ernie Ball Polish With Cloth is wife/husband approved!