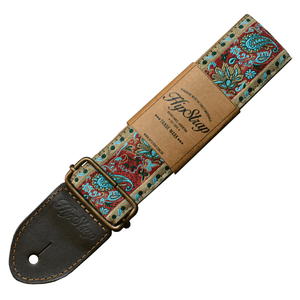 HipStrap Goa Vintage Style Guitar Strap
Product Description from HipStrap:
HipStraps' brand new GOA vintage style guitar strap is a one-way trip to India in the hippism heyday. This beautiful design combines flowers and paisley drops in beautiful and bright colors. Nothing closer to the flower power days. Jimi would be proud ;)
The manufacturing process of HipStrap's is extremely detailed. This process is initiated with the personal selection of our raw material. Then, our products are made one by one by hand and tested using the highest quality standards as a reference.
Features:
Light Brown Nylon DU Pont 6/6 backs (Seatbelt style backs)

Brown Argentinian cowhide leather tabs.

Jacquard embroidered designs.

Aged Bronze Hardware.

Max Length: 150 centimeters (59")

Width: 5 centimeters (2")
Handmade with passion and love in Buenos Aires, Argentina.
Shipping: Free Shipping!

In the Nashville Metro area? Local pickup available! Email sales@tensolo.com after purchase and set up an appointment for pickup. If close enough, we will deliver!

International shipping available for an additional charge, email sales@tensolo.com for details!
Tax Advisory: Tennessee residents will be charged a sales tax of 9.75% on the purchase. Since we are a TN-based business and only have a nexus presence in TN, we have to charge tax for TN residents only. Other states, unless executed differently by their state government to charge taxes on online purchases, are exempt from paying taxes on Tensolo Music Co. purchases.

Please feel free to contact us with any questions.
The HipStrap Goa Vintage Style Guitar Strap is evocative, to say the least, but that's why you're drawn to it in the first place.