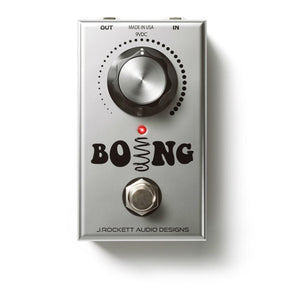 J. Rockett Audio Designs - Tour Series Boing Spring Reverb
I love simplicity.  JRAD has made the perfect spring reverb pedal.  With the twist of a single knob, true spring reverb tones are at your fingertips.  If you are a spring reverb fan and your amp lacks the good old spring reverb tank, this pedal was made for you.  Simple one knob adjustment will let you dial in as much or little true spring reverb tone that your heart desires.

Pairs perfectly with Wangs Amplifiers that do not have reverb.  Bundle options available!  Buy a Wangs Amp and get 15% off the JRAD Boing!
Specs:

Spring Reverb
9 volt Negative tip adapter and a 5.5mm x 2.1mm jack
9 volt Battery
True Bypass Switching
One dial to rule them all!
Shipping: Free Shipping!

In the Nashville Metro area? Local pickup available! Email sales@tensolo.com to set up an appointment for pickup. If close enough, we will deliver!

Tax Advisory: Tennessee residents will be charged a sales tax of 9.75% on the purchase. Since we are a TN-based business and only have a nexus presence in TN, we have to charge tax for TN residents only. Other states, unless executed differently by their state government to charge taxes on online purchases, are exempt from paying taxes on Tensolo Music Co. purchases.

Please feel free to email sales@tensolo.com with any questions.
Tensolo Music Co. is a J. Rockett Audio Designs Authorized Dealer!
The J. Rockett Audio Designs - Boing Spring Reverb was built with people like you in mind. Something to keep you happy. Every. Single. Day.