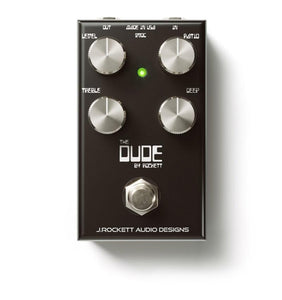 J. Rockett Audio Designs - Tour Series The Dude V2 Overdrive D Style!
The DUDE is designed to achieve the classic D style ODS sounds and feel. From Robben Ford to Larry Carlton to scorching gain, it is all there. The Dude v2 has a less aggressive volume control, new knobs that are easier to read and a noiseless foot switching system.
Specs:

Overdrive - D Style!

9 volt Negative tip adapter and a 5.5mm x 2.1mm jack
9 volt Battery
True Bypass Switching
Tour Series The Dude V2 Overdrive Demo

Shipping: Free Shipping!

In the Nashville Metro area? Local pickup available! Email sales@tensolo.com to set up an appointment for pickup. If close enough, we will deliver!

Tax Advisory: Tennessee residents will be charged a sales tax of 9.75% on the purchase. Since we are a TN-based business and only have a nexus presence in TN, we have to charge tax for TN residents only. Other states, unless executed differently by their state government to charge taxes on online purchases, are exempt from paying taxes on Tensolo Music Co. purchases.

Please feel free to email sales@tensolo.com with any questions.
Tensolo Music Co. is a J. Rockett Audio Designs Authorized Dealer!
Interested in the J. Rockett Audio Designs - The Dude V2 Overdrive D Style!? We have a very flexible return policy. Customer Satisfaction is our number one priority!