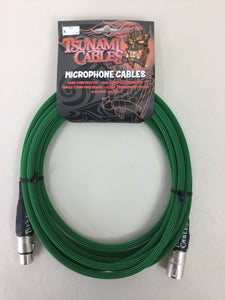 Tsunami Cables - 15ft XLRM/XLRF Microphone Cable - Ogre
Satisfaction Guaranteed or your money back!
Handmade instrument cables, made in the USA.  Tsunami instrument cables are designed to eliminate the need for having two sets of cables - one for the studio & one for the road.  Tsunami Cables offer the best quality available at an affordable price, yet are so durable, you can use it anywhere your rig takes you. 
The premier Star Quad cable for all handheld microphone applications.  4-21 AWG cable, forty separate strands in each conductor eliminate breakage due to flexing.

Specs:
Type: Microphone
Length: 15ft / 4.5m
Wiring: 4 - 21 AWG Cable
Connectors: XLRM/XLRF
Color: Ogre
Shipping: Free Shipping!

In the Nashville Metro area? Local pickup available! Email sales@tensolo.com to set up an appointment for pickup. If close enough, we will deliver!

Tax Advisory: Tennessee residents will be charged a sales tax of 9.75% on the purchase. Since we are a TN-based business and only have a nexus presence in TN, we have to charge tax for TN residents only. Other states, unless executed differently by their state government to charge taxes on online purchases, are exempt from paying taxes on Tensolo Music Co. purchases.

Please feel free to email sales@tensolo.com with any questions.

Tensolo Music Co. is a Tsunami Cables Authorized Dealer!

Go ahead, the Tsunami Cables - 15ft XLRM/XLRF Microphone Cable - Ogre is wife/husband approved!