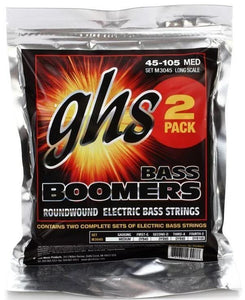 GHS Bass Boomers - Roundwound Long Scale Medium  - 45-105 M30452 (2 Pack)
GHS Bass Boomers® are one of the most popular bass strings in the world. Utilizing a nickel-plated steel wrap wire (with a special combination of stainless steel and nickel-plate on the low E and B strings) over a hex core, Bass Boomers® have a distinctive low-mid punch that sits well in any musical genre. This IS your power string.
4-String set (x2)
24" to 35" scale
Medium Light gauge - .045 - .065 - .085 - .105
Roundwound
Nickel plated
Shipping: Free Shipping!

In the Nashville Metro area? Local pickup available! Email sales@tensolo.com to set up an appointment for pickup. If close enough, we will deliver!

Tax Advisory: Tennessee residents will be charged a sales tax of 9.75% on the purchase. Since we are a TN-based business and only have a nexus presence in TN, we have to charge tax for TN residents only. Other states, unless executed differently by their state government to charge taxes on online purchases, are exempt from paying taxes on Tensolo Music Co. purchases.

Please feel free to email sales@tensolo.com with any questions.

Tensolo Music Co. is an GHS Authorized Dealer!
The GHS Bass Boomers - Roundwound Long Scale Medium - 45-105 M30452 (2 Pack) is evocative, to say the least, but that's why you're drawn to it in the first place.