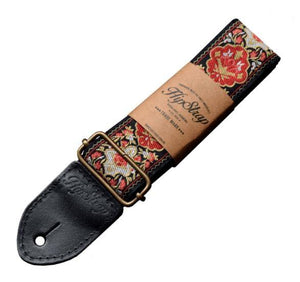 HipStrap Monterey Vintage Style Guitar Strap
Product Description from HipStrap:
Our Monterey Vintage Style Guitar Strap make us fly straight back to the psychedelic and spiritual scene of the 60s. A scene inherited from India that came to the Western world thanks to psychedelic rock bands like The Beatles, Jimi Hendrix, Led Zeppelin, Pink Floyd, Jefferson Airplane, The Grateful Dead, etc.
The festival is remembered for the first major American appearances by the Jimi Hendrix Experience, the Who and Ravi Shankar, the first large-scale public performance of Janis Joplin and the introduction of Otis Redding to a mass American audience.

The Monterey Pop Festival embodied the theme of California as a focal point for the counterculture and is generally regarded as one of the beginnings of the "Summer of Love" in 1967; the first rock festival had been held just one week earlier at Mount Tamalpais in Marin County, the KFRC Fantasy Fair and Magic Mountain Music Festival. Because Monterey was widely promoted and heavily attended, featured historic performances, and was the subject of a popular theatrical documentary film, it became an inspiration and a template for future music festivals, including the Woodstock Festival two years later.
Features:
Nylon DU Pont 6/6 backs (Seatbelt style backs)

Argentinian leather ends, the best leather available worldwide.

Jacquard woven designs.

Bronze metal hardware.

Max Length: 150 centimeters (59")

Width: 5 centimeters (2")
Handmade with passion and love in Buenos Aires, Argentina.
Shipping: Free Shipping!

In the Nashville Metro area? Local pickup available! Email sales@tensolo.com after purchase and set up an appointment for pickup. If close enough, we will deliver! 

Tax Advisory: Tennessee residents will be charged a sales tax of 9.75% on the purchase. Since we are a TN-based business and only have a nexus presence in TN, we have to charge tax for TN residents only. Other states, unless executed differently by their state government to charge taxes on online purchases, are exempt from paying taxes on Tensolo Music Co. purchases.

Please feel free to email sales@tensolo.com with any questions.
The HipStrap Monterey Vintage Style Guitar Strap is the product you didn't think you need, but once you have it, something you won't want to live without.