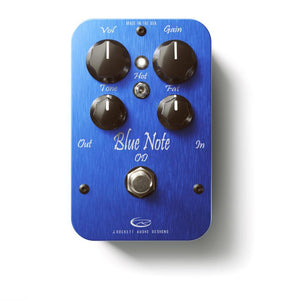 J. Rockett Audio Designs - Pro Series Blue Note Overdrive
Designed to be a transparent, low gain OD for the blues.  This pedal can be as transparent as you could possibly need.  The Blue Note OD was designed to not get in the way or impart it's tone across your amp or guitar's inherent tones.  The Blue Note OD is a very simple design that gives you a subtle yet effective EQ section and a hot switch for a bit more bite and gain. 

The Blue Note gives you a very woodsy blues overdrive feel and can achieve more gain than a typical tube screamer (no this isn't another TS clone just using this as a reference). With the newly added "Hot" switch the pedal is capable of multiple tones. The "Hot" switch adds more gain, more volume and gooses the low mids for a thick juicy feel. The Blue note can be set to run flat in its EQ section or select the "Hot" position for more prominent mids. Since the Blue note can be run in either position it makes it suitable for many applications. This pedal is all about feel and really works well with any guitar/amp combination. This is one of our favorites.
Specs:

Transparent, low gain overdrive
Fat Knob:  Dials in a subtle low-end trim
Hot Switch:  Pushed up adds more gain and bite with a slight mid push as well. Perfect for solo's
9 volt Negative tip adapter and a 5.5mm x 2.1mm jack
9 volt Battery
True Bypass Switching
Definitely check out the Pro Series Blue Note Pro Series Demo
Shipping: Free Shipping!

In the Nashville Metro area? Local pickup available! Email sales@tensolo.com to set up an appointment for pickup. If close enough, we will deliver!

Tax Advisory: Tennessee residents will be charged a sales tax of 9.75% on the purchase. Since we are a TN-based business and only have a nexus presence in TN, we have to charge tax for TN residents only. Other states, unless executed differently by their state government to charge taxes on online purchases, are exempt from paying taxes on Tensolo Music Co. purchases.

Please feel free to email sales@tensolo.com with any questions.
Tensolo Music Co. is a J. Rockett Audio Designs Authorized Dealer!
Interested in the J. Rockett Audio Designs - Pro Series Blue Note Overdrive? We have a very flexible return policy. Customer Satisfaction is our number one priority!