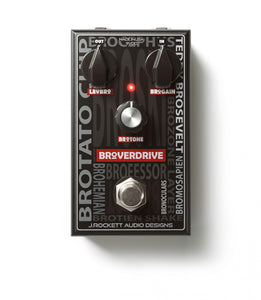 J. Rockett Audio Designs - Tour Series Broverdrive OD
What's up Brotato chip? You are probably reading this expecting a sonic description or a comparison to whatever classic amp it is supposed to be. Is it another Tube Screamer derivative? It could be a little of all of those but it isn't and we have no clue how to describe it other than it is freakin killer. It sounds great through every amp we played it through and it sounds great with all styles of pickups and guitars. Buuuuut, we know everybody needs that reference so the best we can do is tell you it is very smooth, chewy and cuts through a mix. You can play country, rock, jazz or blues and it maintains an amazing feel.
Specs:
Dimensions: 4.00″ x 2.30″
9 volt Negative tip adapter and a 5.5mm x 2.1mm jack.
Analog – 18mA Current Draw
True Bypass Switching
Shipping: Free Shipping!

In the Nashville Metro area? Local pickup available! Email sales@tensolo.com to set up an appointment for pickup. If close enough, we will deliver!

Tax Advisory: Tennessee residents will be charged a sales tax of 9.75% on the purchase. Since we are a TN-based business and only have a nexus presence in TN, we have to charge tax for TN residents only. Other states, unless executed differently by their state government to charge taxes on online purchases, are exempt from paying taxes on Tensolo Music Co. purchases.

Please feel free to email sales@tensolo.com with any questions.
Tensolo Music Co. is a J. Rockett Audio Designs Authorized Dealer!
Imagine if you could be satisfied and content with your purchase. That can very much be your reality with the J. Rockett Audio Designs - Broverdrive OD.