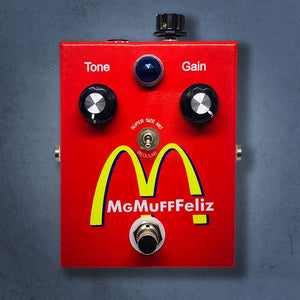 MG Music MgMuff Feliz Muff
It's our version of the legendary Big Muff, we've made a few changes to the original design to make it even more musical and organic, and the bass notes don't sound so "tight" and "dry".

We were influenced by the sound of Robert Fripp on King Crimson's old records and the crazy sounds of Sonic Youth, very sustain!

Now with the switch "SUPER SIZE ME"

EXTRA BASS!

Fantastic timbre before WahWah pedal!

True bypass
Alpha potentiometers
Special Capacitors
Switchcraft jacks
Made in Brazil
About MG Music:  Straight outta Sao Paulo, Brazil, renowned builder Marcelo Giangrande (MG) has been building boutique amps and pedals for decades, and has carved out his place in gear history.  His creations tap into the vintage tones of the 60's and 70's rock legends.  It's quality top to bottom, nothing is overlooked.  Even the graphics used to cover his enclosures is of great importance, bringing a little humor and spirit that we may be missing in our daily lives...
Note: MG music uses vintage analog designs for their pedals, this may cause them to be noisier than standard state of the art pedals.  These are boutique pedals created to deliver certain vintage tones, and do them incredibly well, when the settings are inside the "Goldilocks" zone. 
Shipping: Free Shipping!

In the Nashville Metro area? Local pickup available! Email sales@tensolo.com to set up an appointment for pickup. If close enough, we will deliver!
*Ships from our HQ in Franklin, TN

Tax Advisory: Tennessee residents will be charged a sales tax of 9.75% on the purchase. Since we are a TN-based business and only have a nexus presence in TN, we have to charge tax for TN residents only. Other states, unless executed differently by their state government to charge taxes on online purchases, are exempt from paying taxes on Tensolo Music Co. purchases.

Please feel free to email sales@tensolo.com with any questions.

Tensolo Music Co. is an MG Music Authorized Dealer!

Check out the YouTube Demos!
The MG Music MgMuff Feliz Muff is far and away, one of our most popular items. People can't seem to get enough of it.